Replacement windows are a cost-effective and less hectic way when you want to change your windows.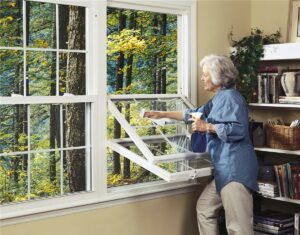 There could be many reasons for you to decide to go for this option. But when you have decided to buy the replacement windows, there are many things which you must know before making any move. In addition, there are different materials, types, and categories available in this product.
Not every replacement window is for everyone and every place. When you want replacement windows, there are various things which you must look for. These factors are security, cost, structure, martial, and so on. Therefore, we have fabricated the list of top 10 things to look for when buying replacement windows.
Read along and decide that will help save you money and hassle and make your house a more beautiful version.
Security
The most important thing that you need for your family, from a house, is security. When you install windows in your house, you don't want to compromise the security of your family. The replacement windows also come in material and structure that allow you maximum security from this replacement version. If you want to go for energy efficiency and security simultaneously, you can have that. Beauty, aesthetics, and safety can also go hand in hand with different replacement windows available in the market. Vinyl and wood are more secure options in replacement windows. In the material portion, we will explain them more.
Cost
If cost is your main concern from the window in an area where you don't need safety and security, things take a dramatic change. You can go for a somewhat similar design and structure inside the house cost-effectively. There are various materials and structures that you could choose as a thrifty replacement the most famous one is aluminum. But when it is about the front windows or the exterior windows at any side of the home, a less expensive window could cost you more in later times.