Choose the correct Bible translation. Only one individual I've ever met favored the King James Bible over all others. It isn't easy to read, and most of it makes little sense to modern English speakers.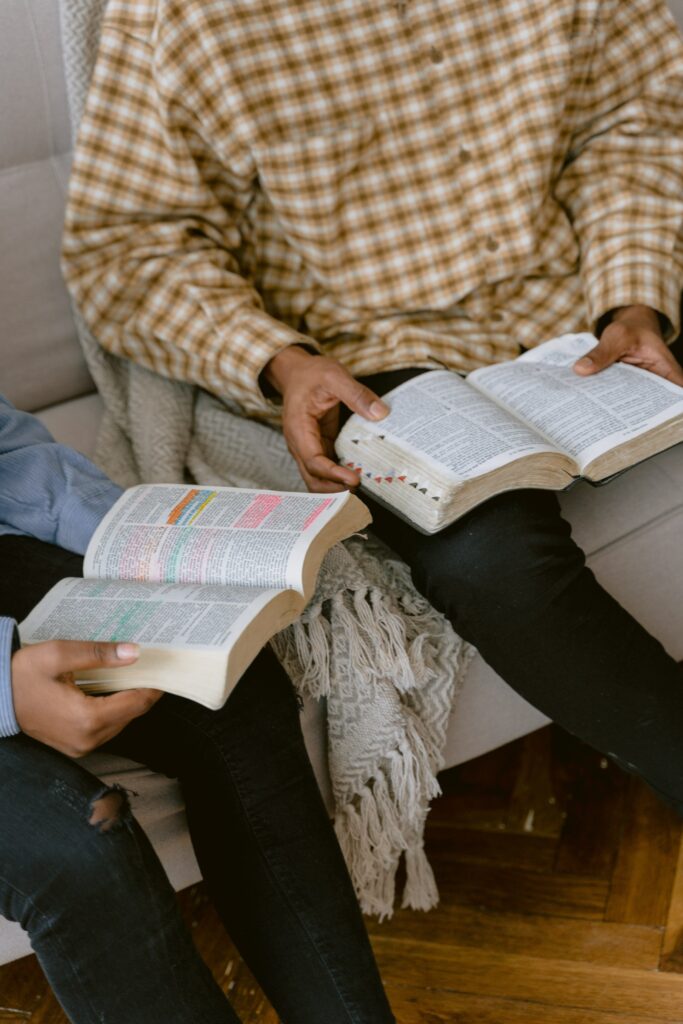 Let's get that out of the way right now. Most churches I've visited utilize the NIV, a reliable and well-respected translation. I've heard that the ESV is the most accurate translation of ancient languages, but I prefer the NLT. Some individuals adore The Message. The NLT and The Message are paraphrased translations, which means they were not translated word for word, making them slightly less accurate but far more readable. The ICB (International Children's Bible) translation is another paraphrased translation that reduces some of the text's wordiness. It uses straightforward, concrete language aimed at children but is also useful to adults.
You can read many different versions of the same verse or verses on Bible.com to get a sense of which you prefer. My purpose in telling you all of this is that dozens of translations differ significantly, yet they are ALL legitimate and valid methods to read and study the Bible.
Get the correct Bible. I like this illustrated NLT study Bible, but I've also included a list of Bibles that I own and suggest at the bottom of this page. (Full disclosure: I may have an issue with purchasing Bibles.) (After all, a girl can never have too many?) Choose a version that appeals to you and makes sense to you, and then purchase a paper Bible in that translation.
I am a digital girl for the most part, yet I prefer to read the Bible on paper. It makes more sense to me to read, highlight, and write in the margins. In addition, I prefer to add dates to the verses I've studied so that the next time I'm directed to the same sections, I can glance back and recall what I learned the last time.
Don't be frightened to make scribbles in your Bible. Over the years, I've dabbled in Bible journaling, which entails coloring in the Bible and sometimes over the top of the text. (I have a separate Bible for that and don't do it in my regular study Bible.) Even if you don't go that far, making notes and recording dates in your Bible is essential for consistent Bible study. Another crucial gesture is to highlight or underline passages in your Bible. (A decent Bible highlighter that won't bleed through the pages is available here.) You'll need a technique to highlight portions that are significant to you. Following the publication of The Circle Maker, I began circling God's promises in my Bible and noting the dates on which I discovered them.
Begin small. I joined up for a Bible in 90 Days challenge the first time I read the Bible. I'm not even exaggerating. At first, I dived in with both feet, reading the Bible for two hours a day, and then I petered out somewhere about First or Second Chronicles. I'm surprised I got as far as I did with the amount of work I put in. So could you not do what I did? Begin by setting a goal of reading one chapter of the Bible every day or for 10 minutes per day. Once that becomes a habit, you can always step up your game if you're able, or you can rest easy knowing you're doing your best. However, if you begin with an overly ambitious objective and fail to meet it a few times, you are more inclined to quit up.
Make time for Bible study. What you intend to accomplish, you carry out. You never get around to doing what you want to do. Have you ever thought about it? Schedule a time to read and study the Bible, and then tie that time to something else you already do. For example, after writing in my journal, I read and studied the Bible. I do each of these things at my desk in my home office shortly before working in the morning. I enjoy starting my day with the Bible, but I frequently finish my day with the Bible as a teacher. It makes no difference when you do it, only that you do it. The anchoring step is critical in this case. Without an anchor, it's difficult to get your brain to form a new habit. The anchor acts as a trigger, reminding your conscious brain that it needs to do something. So your anchor may be that you study the Bible soon after breakfast, lunch, or before you wash, or anything. Choose something you typically do and make it a point to read the Bible alongside that other thing.