So you're saying goodbye to Windows and saying hello to Apple. Congratulations. We've been on the Apple bandwagon since the late 1980s and welcome any newcomers.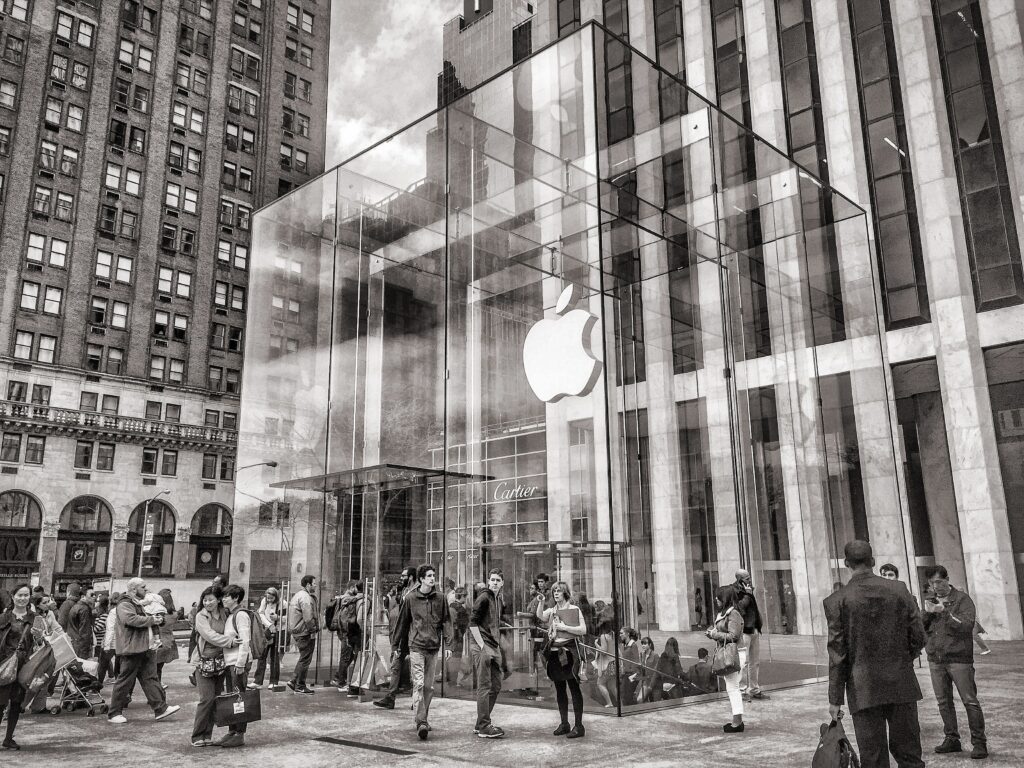 The simplest way to get started is to order your new iMac, iPad, iPhone, or iWhatever from Apple.com. However, Apple items are expensive, so, understandably, you'd want to sample before you buy.
You may now check out and buy Apple products in a larger variety of brick-and-mortar stores, ranging from electronics behemoth Best Buy to warehouse clubs Costco and BJ's. However, we recommend going directly to the source: the Apple Store in your neighborhood mall, downtown location, or fancy retail center. Here are ten compelling reasons why.
Employees are not paid on a commission basis.
When you walk into an Apple Store, you'll almost always be met by a staff armed with an iPad. You'll be asked why you've come to the store, and your initial name will be entered into the iPad to await the second intercept of an Apple "expert." Though there are many people about – as evidenced by the sport shirts – you may have to wait a few minutes for assistance, as I did on a recent weekday morning. That is the disadvantage. The good news is that your patience will be rewarded when a knowledgeable guide to all things Apple arrives.
Insiders have told me throughout the years that the Apple Store employment process is difficult, and the training is rigorous. "I'm not sure" is not an appropriate response to consumer questions. There are also no high-pressure sales. They'll tell you that they don't work on commission if you ask, so you're free to leave without feeling bad. Besides, another consumer is generally ready to take your position. You won't receive that kind of in-depth information at Best Buy, and there's no one to tell you anything about Apple devices at warehouse clubs.
They'll Assist You With Online Orders.
It cannot be easy to configure a new MacBook Pro laptop online. You must decide on screen size, processing speed, storage, and even color (we prefer Space Gray). The Apple Store can assist you.
Even if you go into an Apple Store expecting to leave with a beefed-up MacBook, you won't. The laptop will have to be configured and shipped from another location. The shop consultant will walk you through the ordering process from Apple.com, explaining the difference between gigabytes and gigahertz along the way. You can then have the laptop transported to the store – see the following advice for why you should do this or your home.
They'll Assist You in Transferring Your Files, Too.
All of the pictures of the kids. That's a lot of music and video—every single one of those documents and files. You want them to transfer from your old device to your new one. Employees at Apple Stores will not do all of your jobs for you, but they will assist you.
Has your new laptop shipped to the Apple Store if you ordered one? Take your old laptop to the retailer when it arrives. You should also bring the external device you used to back up your stuff—request assistance from a store employee in migrating that data. Once your new machine is up and running, you'll be able to access anything stored in the iCloud.
They'll match the prices of competitors.
The adage that there is never a sale at the Apple Store is no longer true. However, some undercutting now that other merchants are offering Apple products – a relatively new phenomenon.
If you truly want to buy an Apple product from an Apple Store but find it cheaper at a typical shop like Best Buy, Target, or Walmart, notify an Apple specialist. An Apple Retailer employee acknowledged that they could obtain authorization to verify and match the price of another similar store. However, there is one stipulation: they will not match warehouse club prices.
Online orders can be returned to a store.
Apple's return policy isn't particularly lenient. Typically, you have 14 days from the date you got an item to return it for a refund or exchange. That time range is comparable to that of major electronics retailer Greatest Buy, but it falls far short of what is offered by retailers with the best return policies.
On the plus side, orders placed through Apple.com can be returned to an Apple Store, saving you the trouble of sending the return yourself. You can also exchange an item at an Apple Store, though it's a good idea to check first to see if the item you want is in stock. Apple devices purchased from a different retailer must be returned to the original merchant.
To find refurbished items, you must go online.
Even today, Apple Stores veterans discuss a remedy for that scowl you get when you realize you're paying Tesla-like prices for a new Apple product. Back in the day, you could walk up to the checkout counter – there used to be one – and, with a wink and a knowing nod, ask an employee if they had any returns or refurbished things in the back. (I once received a substantial discount on an iPod that had been returned the same day it had been purchased.)